I added some recent Twitterpics to the gallery click the picture below to see them: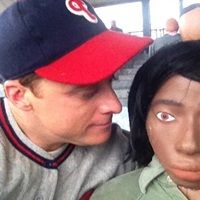 The studio and the production company run by Ben Stiller and Stuart Cornfeld have tapped Clay Tarver to pen a script for a long-talked-about sequel to the hit comedy Dodgeball: A True Underdog Story.
The 2004 film starred Vince Vaughn as the slacker owner of rundown gym who gathers a group of misfits into a dodgeball tournament in order to defeat an encroaching corporate gym run by Stiller.
The movie grossed more than $114 million domestically on a reported budget of $20 million.
While Fox, Vaughn and Stiller have long mulled the idea of a sequel, little action had been taken. It was even a joke on an episode of Ricky Gervais' Extras in which Stiller guest-starred.
Now the sequel will focus on Vaughn and Stiller forced to team up to fight an even bigger threat, according to sources.
Tarver co-wrote with J.J. Abrams the 2001 thriller Joy Ride but has spent much of his time in the comedy world and has a familiarity with niche, subculture activities.
He is working on Quantum Hoops, which centers on a nerdy basketball team at Caltech, set up Disney and also being produced by Red Hour. He wrote Men Making Music, about the world of competitive barbershop quartets, also at Disney and being produced by Abrams. And he worked with Mike Judge on Meat in the Freezer, a satire about hunting for HBO Films.
Tarver, who is repped by WME and Wetdog Entertainment, also recently wrote the Jack Black and Shine-produced comedy pilot for Showtime titled The Deep Cuts.
Source:hollywoodreporter.com – Dodgeball sequel in the works at Fox
I have added some pictures from a recent event to the gallery to see them click the picture below: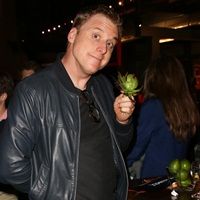 Actor Alan Tudyk sounds surprised when I mention that I've been a fan for a while – pleased, but surprised.
He's a lithe, light-fingered actor who casually steals scenes with impeccable comic timing and unexpectedly rubbery physicality. Tudyk has been good in a lot of bad stuff but he's even better in good (if little-seen) comedies like Frank Oz's original "Death at a Funeral" (in which he played a nervous potential son-in-law who accidentally takes a hallucinogen before a funeral) and "Tucker and Dale Versus Evil," as a backwoods type mistaken for a serial killer. And let's not forget Wash on "Firefly" – or Steve the Pirate in "Dodgeball: A True Underdog Story." Arrrrh.
But Tudyk is on the phone to talk about playing Ben Chapman, the Philadelphia Phillies manager who becomes the face of racism in "42," which topped the box-office charts last weekend. In the film about Jackie Robinson's first year in the majors, Chapman shows up spitting one racial epithet after another from in front of the Phillies' dugout at Ebbets Field, a monologue of bitter bigotry that left Tudyk feeling slightly hungover after each day of filming.
"It was like I got wasted at a bad party," Tudyk says. "It would leave a stain on your mood, and put you into a bad mood into the next day."
In fact, according to the film's director Brian Helgeland, the hate-speech that Chapman spewed (and which got laughs from his players) was toned down for the film. But that didn't make it any easier for Tudyk, who had to chant, "Hey, nigger, nigger, nigger," at actor Chadwick Boseman, playing Jackie Robinson.
"It was hard to get past my own feelings," Tudyk says. "I had to get past that actor feeling of being someone sensitive and liberal, who's not used to fighting."
To steel himself, he would go on the Internet, seeking out videos of streetfights: "But not those cage matches, where they both want to be there," he notes. "The ones where someone is caught up in a fight he doesn't want to be in, where he's kind of saying, 'Help me,' and nobody does. I'd watch four or five of those and, when I stopped flinching and I had a knot in my stomach, I knew I was good to go. I had a good store of aggression and anger that I could take to work."
Yet Tudyk's job was not to be the most hateful person possible – but to be someone who would have fit right into polite society of the period: "Ben Chapman was like a lot of good ol' boys I've met. He's nice and funny – and then he tells a joke that's extraordinarily racist and you think, 'Oh no, I've got to go.' I love the idea of him being somebody who could be likable. There were people who liked him."
As he researched the role, Tudyk found that, in fact, Chapman's entire career had been marked by a pugnacious (and racist) personality: "He would say, 'Well, I'm an equal opportunity racist. I call Joe DiMaggio a wop and Hank Greenberg a kike. It's all in good fun.' He'd argue that, hey, this is a serious game and we're playing for keeps so we'll do what it takes to win. But at the same time, he'd say, hey, we're just having some fun. There was a twisted logic there I could make sense of."
Chapman's own history was checkered as well: "He was one of the first players to get fined by his own team – like $100 or $200 when that sort of fine was not given – for starting a fight in the outfield over a Jewish slur he used on one of his own teammates. Apparently 200 people came on the field and started fighting. He actually got into an argument with an umpire one time, pulled the guy's mask off and punched him in the face."
With "42" in the theaters, Tudyk still has "Suburgatory," the ABC sitcom which is just finishing its second season and is predicted to return for a third. He's happy to have some downtime in a career that he never saw coming.
Growing up in a suburb of Dallas, Tudyk was active in speech – as opposed to drama – in high school "because I didn't like the drama teacher. He was one of those guys who played a lot of mind games with his students. And besides, I was going to be in hotel management. I loved my job at Taco Bueno. I was taking classes in advance hotel management and thought I would work at a fancy hotel."
But a teacher told him that he was too good not to try acting: "She convinced me I could become an actor and not be poor. She had this insane confidence."
He went to a two-year college in Dallas, while finding acting gigs around town, before finally deciding that he needed actual training if he was going to act. He applied to the Juilliard School and was accepted: "Then I left before I graduated because I didn't much care for it."
Which was fine, because he was already working: He'd been cast to play a multiplicity of characters in Alan Zweibel's "Bunny Bunny," for which he won both the Theater World and Clarence Derwent awards.
While that play was being developed, he held one of his last non-acting jobs, working at Harry's Burritos on Manhattan's Upper West Side. There was a gorgeous soap opera actress who was a regular customer, who would come in with her handsome boyfriend and chat with Tudyk.
"I was so in love with her – but she'd bring in her boyfriend," Tudyk recalls. "But the guy was so nice and tipped me so well that I couldn't hate him. Six years later, I'm working on 'Firefly' with Nathan Fillion, who's now one of my best friends, and we're talking about our early days in New York. And we figured out that he had been that actress' boyfriend and I had been waiting on him."
Source:hollywoodandfine.com – Alan Tudyk steals another scene
Funnyman Alan Tudyk brings Marie to hysterics as he recreates some of the cartoon voices he is best known for and recalls playing 25 different characters in just one play. In his hit ABC sitcom "Suburgatory," Alan has found himself in some hilarious and unexpected situations, but he also has a serious side. In the biographical film "42," which tells the story of baseball legend Jackie Robinson, he is cast to portray a racist character. Before cameras rolled, Alan found it necessary to apologize in advance to all of the extras on set about the dialogue he was about to recite.
See the video HERE
I have updated the gallery with some more pictures from the 42 premiere as well as photos of Alan on Extra click the pictures below to see them:
I have uploaded pictures from the premiere of Alan's new film 42 from yesterday. To see them click the picture below: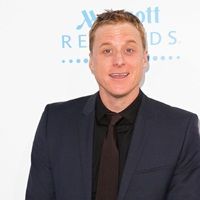 Not only was the Chatswin father rejected by Carmen, of all people, on Suburgatory, he and his young son Opus have taken up shop in a luxurious hotel in an attempt to right the ship. Things get so bad that the town moms corner Noah's buddy George for a faux intervention.
As Alan Tudyk tells it, Noah's romantic downfall was a highlight to play. "To see him fall head over heels in love with someone, go for it and then get shot down was fun — to be a genuine loser," he tells The Hollywood Reporter. "He lost out, but not because he was a bad guy, he just lost."
Tudyk talks to THR about Noah's post-Carmen blues, the dangers of rebounding and what the rest of the season has in store.
The Hollywood Reporter: Noah has been lacking in the romance department as of late, especially last week when he unsuccessfully tried to woo Carmen.
Alan Tudyk: I loved it. There isn't a lot of romance in his life. To see him fall head over heels in love with someone, go for it and then get shot down was fun — to be a genuine loser. He lost out, but not because he was a bad guy, he just lost. He tried his best and fell for the wrong woman. It was a little endearing.
THR: The costume Noah wore was pretty spectacular.
Tudyk: To dress like a hot sauce mascot is always good.
THR: Now he's down and out.
Tudyk: Like any down-and-out single person, he moves into the most expensive hotel there is and is raising his son. He shares custody with his wife, while they're figuring out the divorce, but he's living in luxury — until he gets ejected. He's rebounding all over the hotel and has to leave – because it's causing problems. He ends up doing some couch surfing. George gives him some advice, too.
THR: Who does he try to pick up at the hotel that causes him to get kicked out?
Tudyk: All of the Carmen-like people. Anybody who looks like Carmen, anybody who resembles Carmen who's in the service industry – and actively servicing him and his son. [He] mistakes [them] for someone he can love.
THR: How does he justify that?
Tudyk: He is confused. He's been in a long relationship with a woman who is frigid, heartless and stern. That's what he liked in Carmen; she was caring, nurturing, voluptuous and a woman. His wife had a weird almond-only diet. He's leaning towards the nurturing woman figure. Any woman who has that nurturing, caring side – whether it be caring for him and giving him turn-down service, or caring for him and delivering his room service, or cleaning the room – he mistakes for love. He goes after a few different ladies.
THR: What was that experience like, sort of taking on a model role for the day in the "Decemberfold" episode?
Tudyk: It was great. The main thing I learned was playing someone who is being sexually exploited or physically exploited is a very similar thing. The line between playing it and being it is tough to figure out. They put me in a Speedo, like, "You're going to wear this." I tried on the Speedo, and they said "Yeah, that's way too big." Not in size – it fit me — it was just too much material. They started shrinking it down, cut an inch off the top, up in the crotch. I love any episode that has Jeremy [Sisto] and Chris [Parnell] and together. We're competing in this [episode] to be the sexiest man in Chatswin. The December fold, the centerfold of the calendar. The photographer in town, Jarrison – an odd little man – is in charge of photographs. He's the one saying, "Put your hands in his hair." It's freakish and very funny.
THR: Was seeing Chris Parnell in the Titanic pose one of those surreal moments?
Tudyk: That was awesome. His character [Fred] – whenever we're in the steam room or the locker room, and we're in towels or robes, or anything like that – just likes to be naked. "Is this a privates party?" [He] loves showing off. He feels very comfortable with his body, and actually, Chris feels very comfortable in the nude thong. It's always hysterical whenever Fred Shay gets to be sexual.
THR: As we near the end of the season, where does Noah end up?
Tudyk: Noah's main thing, throughout the season, has been figuring out his feelings for Carmen. From the very beginning, he was battling Dallas (Cheryl Hines) to get Carmen to be his nanny. She gets taken away from Noah. Noah is really immature and so, he plots revenge on Dr. Bob. He's not done with Dr. Bob. He's heartbroken. It stinks that Carmen has chosen Bob; it's Bob's fault. He did break his trust. He has to get back at Bob.
Source: hollywoodreporter.com – Suburgatory: Alan Tudyk on Noah's romantic failures and the dangers of rebounding